I love Blueberries and there seem to be a lot of them round at the moment so thought I would make
these
cheeky little numbers and take them with me to the park for us girls to eat whilst the babies played !
There was a slight modification as I used sunflower oil instead of butter - Its a 'throw everything in' recipe which I love. The recipe said for only 6 muffins and these were right to the top and as you can see the one nearest the front threw itself over the edge of the cupcake liner!
They were very light and moorish due to using sunflower oil ( well I think that is what it is otherwise it is vegetable oil - the label has come off!). Just what you need when you are sitting in the sunshine! I love being on maternity leave in the hottest summer for 7 years! Long may it last!
Must start looking for a job soon *sigh*.
I came across another blogging challenge and am entering these into this months Tea Time
Treats
challenge Hosted alternately by Karen at
Lavender
and Loveage and Kate of
What
Kate Baked. This months challenge is Fresh fruit.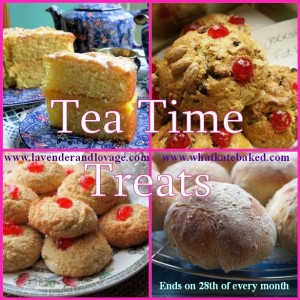 Tea Time Treats Rules and Guidelines: